FLW Everstart Tournament Lake Erie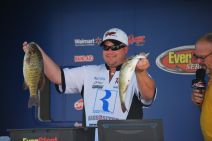 The third stop on the FLW Everstart Northern Division was on Lake Erie in Buffalo NY. Had a good practice although the weather wasn't the greatest with some wind witch always makes this lake rough with 6-12 foot waves but the fish were biting and biting good.
I found fish on every spot I fished. Day one I came in with over 17lbs and in 20th place 1lb out of the top ten, the second day wasn't as good only had a little over twelve lbs and finised 40th overall one pound out of the money, that sucked but a good points finish now only 9 points from the championship cut.Thank you to all my sponsors for your contiued support this wouldn't be possible without you.