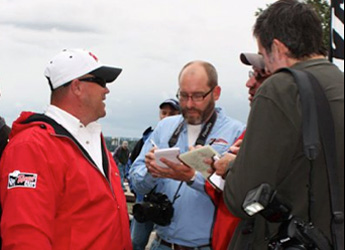 Meet Jim
Hometown - Washington, Pa.
Occupation - Professional Bass Fisherman
Hobbies - Fishing and Building Things
Favorite Lure/Technique - Crankbait/Dropshotting
Favorite Lake - Lake Erie
Boat - Ranger Z22
Motor - Evinrude E-Tech 250-HO
Favorite Angler - Kevin VanDam - His attention to detail is unbelievable.
—
I am a Bass Fishing Professional with great ambition to rise to the top.

I inherited my love of this sport from my Uncle Jim & late Uncle Jeff. They took every opportunity to show me as a child the joys of bass fishing. Thanks to them, I will forever be hooked on the chill of the early morning air, the sound of my lure meeitng the water, and the splash of the bass fighting it's way to the boat.
My competitive skills have been established & improved upon at the local, state, & regional levels thanks in part to the Washington PA Bassmasters Club, where I have been a member for many years. I have learned many valuable lessions both on and off the waters from a wonderful group of men. I thank each and every one of them for those lessons and their continued support. Without the help of this club I would have never had the ability or skills I have today to pass on to others while on or off the waters and now the web with many thanks to Bass Pro Sites.