Ohio River Wheeling Island Tounament
What an awesome day I had on Sunday at the Ohio River Wheeling Island tournament. Went down there on Saturday for a little practice with my travel partner and friend Matt Stasiak, I caught about 13-15lbs and thought that was unbelievable and that it couldn't happen again on Sunday.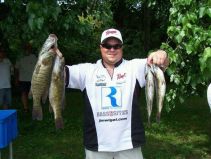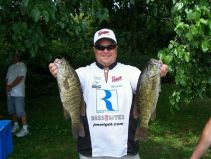 Boy was i wrong not only did I repeat but I also won the tournament with 13.23lbs and also had lunker with a 3.54lb pig smallie. I started my day at 7am running to a lock and and locking through to another pool started fishing at about 7:40am and was culling fish at 8am awesome. Started my day with a Rico popper and they just crushed it till about 11am then went too a wacky rigged senco and a chigger craw to finish the day. Great day I caught about 25 keepers and called 3 fish at 2:30 with the lunker as one of them the only bad thing is that I lost 2 nice smallies as big as my lunker. The weight I came to the scales with is abnormal for the river in these parts so you can see why I'm so proud of this win and weight. A big thank you to all of my sponsors for this season, if not for Bass Pro Sites this wouldn't be possible.